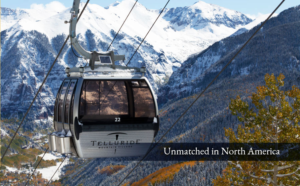 TELLURIDE, Colorado (December 7, 2015) — Bill Jensen has joined Telluride Ski and Golf Resort as a Partner and Chief Executive Officer (CEO). Jensen has enjoyed an influential career leading three of the most successful and recognized mountain resorts in North America. "This is a significant step towards bringing Telluride to its potential. Bill and I have been friends for many years. Having Bill as a partner brings depth to the ownership of this resort, and our shared interest in bringing together community and resort sustainability with a long term vision is the core purpose for our partnership," stated Chuck Horning, Majority Owner of Telluride Ski and Golf Resort. "Telluride is a relatively young resort with a huge potential."
"I chose to come to Telluride because of the opportunity to invest in the future of this extraordinary resort," said Jensen. "For me, joining Telluride Ski & Golf Resort as a partner represents an unprecedented opportunity to fulfill Telluride's potential as one of the top resorts in the world and the best in North America. To achieve this goal we will appeal to guests who seek out the best through the variety of unique experiences we offer. As part of that commitment, we will honor the special and unique nature of Telluride by infusing sustainability through economic growth and supporting the integration of science, including wellness and longevity for guests and residents.  We will hire the best, we will work and grow together, and we will honor the spirit of Telluride."
"Coming to Telluride brings me full circle in my career, taking me back to the passion and excitement I first felt when I discovered my love for skiing and the mountains," Jensen added.  "This shaped who I am today. Telluride is wonderful for what it is and for what it can become. A world class mountain resort that is a great place to live and work."
Previously, Jensen served for six and a half years as CEO of Intrawest, North America's second largest ski resort company. At Intrawest, Jensen was responsible for the oversight of Whistler Blackcomb, Mont Tremblant, Blue Mountain, Steamboat, Winter Park, Stratton, Snowshoe, the company's hospitality business and Canadian Mountain Holidays, the world's largest heli-skiing company.
Prior to Intrawest, Jensen was an executive with Vail Resorts for 11 years, including two years as Chief Operating Officer of Breckenridge Ski Resort and nine years as Chief Operating Officer of Vail Mountain, where he also served as President of Vail Resorts Mountain Division. Jensen's extensive industry experience also included six years as President of three California ski resorts (Northstar-at-Tahoe, Sierra-at-Tahoe, and Bear Mountain).
Jensen is a Past Chairman of the National Ski Areas Association and the Colorado Tourism Office Board of Directors.  He is a two-time recipient of the Colorado Ski Country USA Chairman's Award and was inducted into the Colorado Ski Hall of Fame in 2008.  Throughout his career Jensen and his wife, Cheryl, have been active community leaders, serving on various boards and foundations in the communities in which they live and work.