PLEASE NOTE: Due to COVID-19, all scheduled events are subject to change or cancellation. The Summer 2021 Festival and Event Schedule will look different this year based on COVID related restrictions. Some festivals will be held virtually, and others may hold smaller events. THERE WILL NOT BE A 4TH OF JULY CELEBRATION. THE PARADE, BARBEQUE AND FIREWORKS HAVE BEEN CANCELLED.
Thank you for your patience as our festival community explores safe and thoughtful options for our beloved festivarians. Please check back for regular updates.
For over 30 years, the name "Telluride" has been synonymous with its signature events—whether musical, cultural, culinary, scientific, athletic or unusual. With many festival offerings heading into their third decade, Telluride's festivals have evolved and grown, and continue to inspire the loyal fans who make the annual journey to this beautiful canyon. With variety ranging from arts and music to outdoor pursuits, there's an event to match every passion.Long-standing offerings—such as the Mountainfilm Festival, Telluride Film Festival, Bluegrass Festival and Jazz Festival—are known among film and music aficionados for attracting the best filmmakers and musicians in the world. Some locals claim that Blues & Brews, scheduled the third weekend of September, is the favorite because it signifies the start of fall colors and the coming of ski season. Mushroom Festival and the Imogene Pass Run further exemplify the eclectic offerings of Telluride.
THE ANNUAL TELLURIDE BLUEGRASS FESTIVAL
Every June Festivarians and musicians from around the world make their annual pilgrimage to the historic mountain town of Telluride in the San Juan Mountains of southwestern Colorado. This year, the Telluride Bluegrass Festival will be split into two separate weekends; the traditional Solstice weekend, and the Friday- Sunday before. We will be operating at a reduced capacity of 2,500 people per day. We are doing this to accommodate for the extensive Covid precautions we will have in place. It will be an unforgettable couple of weekends filled with music, mountains, and magic in the breathtaking box canyon at 8,750′. Make your plans now to join us for the 47th Annual.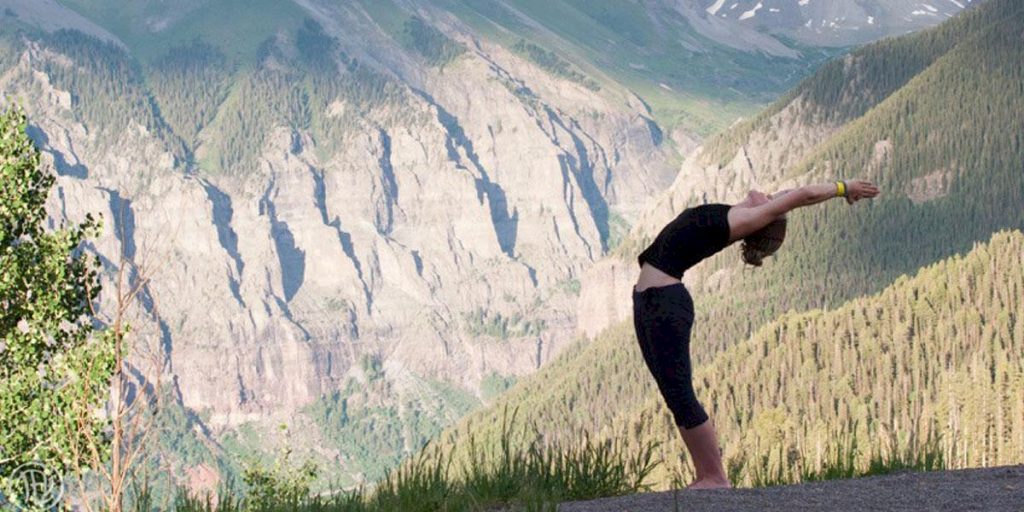 TELLURIDE YOGA FESTIVAL
We are thrilled to announce that our 2021 festival IS HAPPENING! We cannot wait to gather again, in community, and celebrate yoga in all of its many forms. Many of us have not been to public gatherings for over a year…there has been intensity, grief, adversity, discovery, re-birthing, and re-imagination. With all that has transpired this past year, this will be a potent and powerful festival. This is why we practice!

Please visit our lineup page to see the teachers and artists that will be joining us this year. We will announce the schedule mid-May and passholders will be able to register for classes at that time along with additional experiential and outdoor offerings.

Yoga is not just about the asana of movement – it's a connection of mind, body, and spirit – it is the practice of liberation for all beings.

We look forward to seeing all of your beautiful smiling faces soon in Telluride.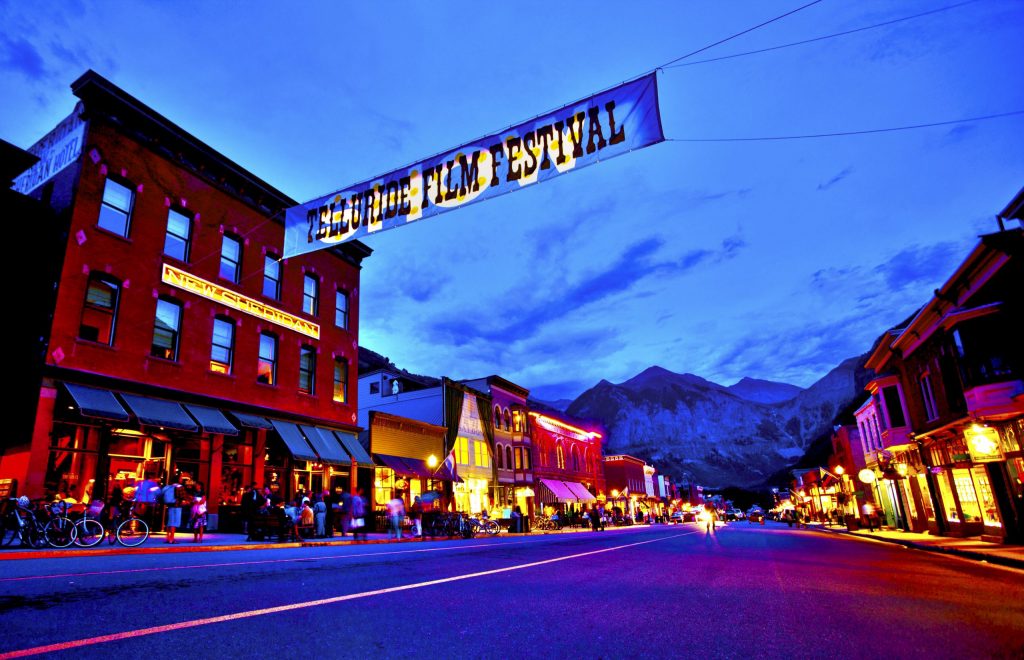 TELLURIDE FILM FESTIVAL
Telluride Film Festival will take place September 2 – 6, 2021, with an added day to the weekend-long event. Festival organizers are optimistic that by September, when the vaccination process will then be long underway, and by taking all necessary safety precautions including the extra day, an in-person event will likely be possible. There are currently no new pass sales available to the public at this time. As a result of the Festival's 2020 cancellation, the majority of passholders requested to roll over their passes to 2021. Without knowing theater capacity restrictions, the small number of passes left are being held back out of an abundance of caution. A waitlist is being compiled on a first come, first served basis. More information may be found on the Festival website.
Each Labor Day weekend, the tiny mountain village of Telluride, Colorado triples in size. Swells of passionate film enthusiasts flood the town for four days of total cinematic immersion, embarking on a viewing odyssey, blissfully spending entire days in flickering dark rooms. With only an appreciation of celluloid to guide them, these devotees flock to the show, year after year. Why? Blind faith. They don't reveal the program until everyone lands in town. Yet the Telluride family trusts that a unique experience will unfold.
The Telluride Film Festival is not just a picture show. It is Tributes to luminaries who've propelled the medium forward; it is candid discussions with a film's creator or the historian who champions it; it is discovering that the person in line behind you made the film you just enjoyed; it is engaging in lively debate with every manner of film lover in the summer sun of a Colorado afternoon, always minutes away from a new exhibition. The Telluride Film Festival is on Oscar streak. Nine times in the last 11 years, Oscar winners for Best Picture Films have had their North American premiere in Telluride including Slumdog Millionaire (2008), The King's Speech (2010), The Artist (2011), Argo (2012), 12 Years a Slave (2013), Birdman (2014), Spotlight (2015), Moonlight (2016), and Shape of Water (2017).
The Telluride Film Festival take great pains to remain not a competition, but a celebration of the best in film—past, present and future—from all around the world. This is one weekend immersed in an unabashed carnival of film: viewing, breathing, eating, and talking cinema. This is The SHOW.
TELLURIDE BLUES & BREWS FESTIVAL
Renowned as one of the most scenic and intimate music festivals in the country, Telluride Blues & Brews Festival is located in the world-famous mountain town of Telluride, Colorado. The multi-stage celebration of music and craft beer offers an eclectic mix of live blues, funk, indie, rock, jam-band, gospel and soul performances accompanied by some of the best craft breweries in the country. The Festival also features kids activities (climbing wall, bounce houses, slides and parades), cozy late night club shows, a 5k fundraiser race, free morning yoga sessions, local and regional food and craft vendors and so much more. Set at the beginning of the golden fall season, Telluride boasts a number of unique outdoor activities, including hiking, mountain biking and a free gondola between the Town of Telluride and Mountain Village.
2021 Festival Update
SBG Productions wishes you a happy, healthy and strong start to 2021 and hope this update finds you well. Currently, we are planning to celebrate the Telluride Blues & Brews Festival on September 17-19, 2021, but only if it is safe to do so. We are working closely with health officials, while monitoring the success of the vaccines and keeping an eye on the changing state of live events for this summer. When we have a clearer picture of what events will look like and receive a "green light" from officials, we will provide additional updates.
Tickets for the 2021 festival will not go on sale until we know it will be safe to host an event. Until that time, all other festival announcements will be paused. For those who have rolled over your 2020 tickets no action is needed at this time – your tickets are in our system and will soon be re-issued with the 2021 dates.